September 2022 Newsletter
October 12th, 2022
Dear Friends, things are really humming in the Lysicrates world!
We have some wonderful developments to report in this newsletter, with the dramatis personae including one Chief Justice, one didgeridoo player, one producer, two statues, three finalist first acts, three directors, four musicians, up to five actors and hundreds of stamping, laughing, barracking children 11 to 14 years old.
The Martin Oration this year was a tremendous success.
On 17 August, Gilbert + Tobin hosted a fine dinner, attended by a packed gathering, at which The Hon. A.S. Bell, Chief Justice of New South Wales, delivered a superb speech, exploring the history of the Lysicrates Monument and its meaning for the colony in the first half of the 19th century, and for James Martin himself.
The Chief Justice summed up by saying the monument was an expression of the colony's yearning for an idealized "civilized" past in Europe, and for a civilized future in this strange new land. Thought-provoking, and, in places, highly amusing.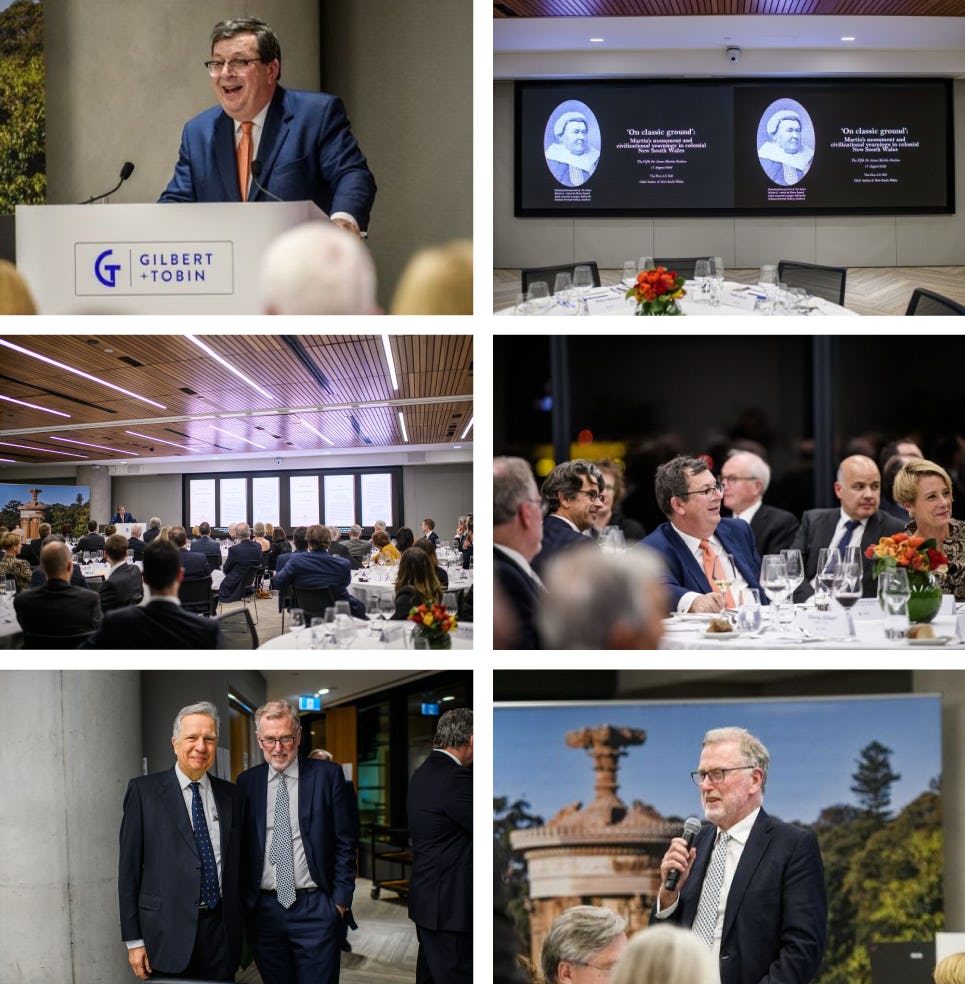 The Foundation was, and is, very grateful to Danny and Kathleen Gilbert for so generously hosting this unique event.

The complete Oration has been added to the Lysicrates Foundation website and it and previous Orations can be viewed here.
YOU ARE INVITED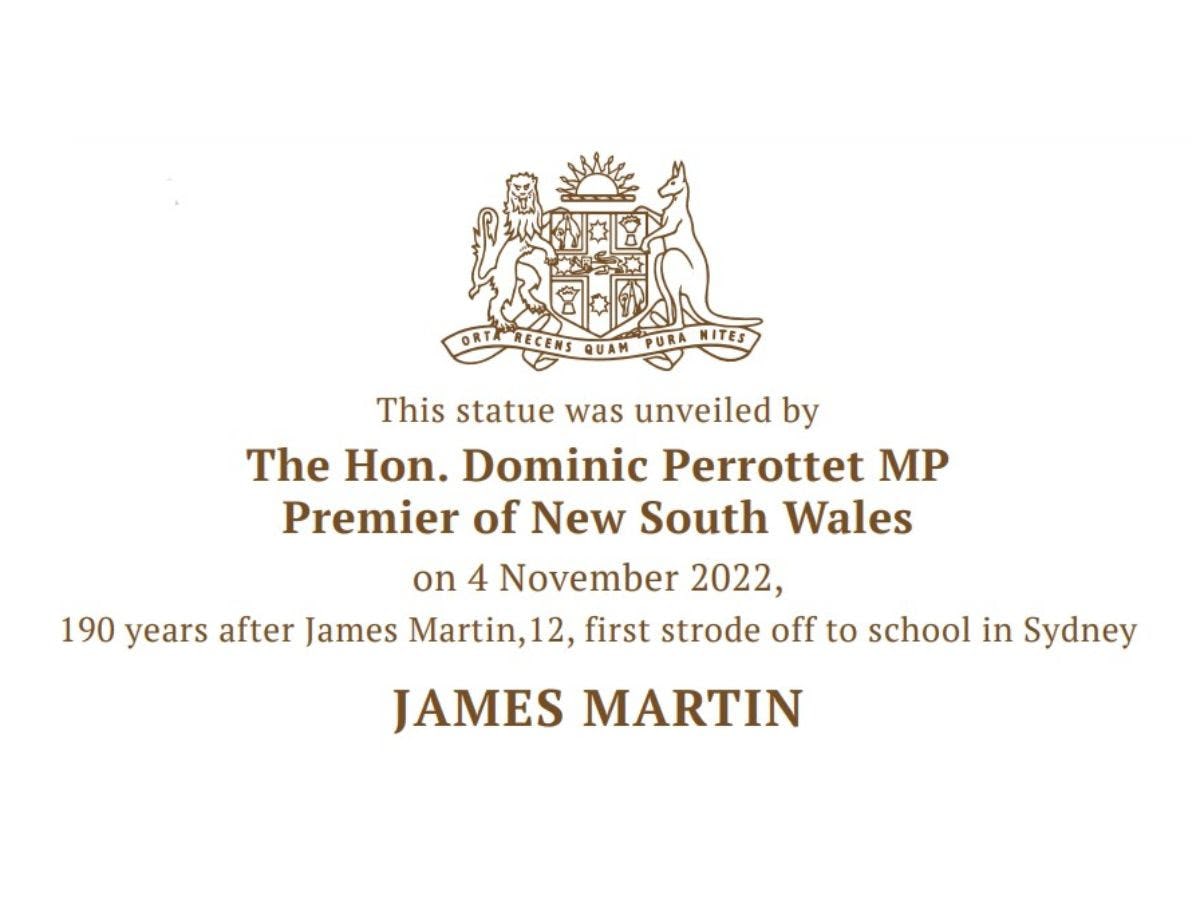 On 4 November, at 11.30 a.m., the Premier will be unveiling the statue of the 12-year-old James Martin in Parramatta Square, the twin of the one currently standing in Martin Place, which the Premier also unveiled in November 2020.
Somerville's evocative statue is of the determined boy James striding off to school in Sydney from home in Parramatta, on his way from servants' quarters to the top office in Parliament House. A monument to ambition, talent and hard work. And to the opportunities available in this country.

On 8 November, at 11 am, the 5th Martin-Lysicrates Competition for plays written for kids 11 to 14 years old will be held at the Riverside Theatre in Parramatta. If previous Martin-Lysicrates events are a guide, the whole thing should be a blast. Beginning with a haunting didgeridoo performance, three first acts are performed and the winner is chosen by the votes of the students themselves, in a live demonstration of democracy. It's all free. And there is a bush band to get toes tapping as the kids file out and vote.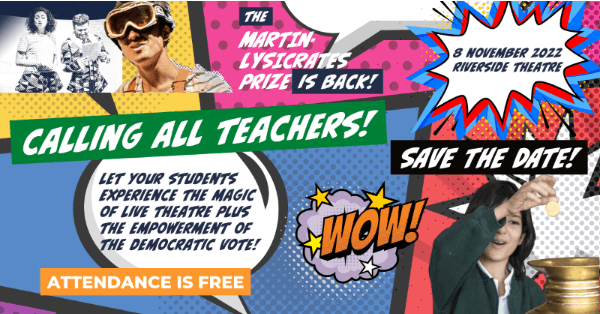 It would be wonderful if you could let any schools and teachers you might be associated with know about this unique event.  If they can't come to the theatre, they can watch the live stream or wait for it to go online for six weeks after the performance.  

There is a prize of a return trip to Athens for two for which all participating teachers are eligible, and for any teacher bringing 30 or more kids to the theatre, there are two tickets to Cinderella.

For more, send all your contacts to martinlysicrates.com.au – and visit the site yourselves! 
And one last little bonbon you might be interested in.

On 18 October, the Executive Board of Greek-Australian Business Leaders will be holding a unique and fascinating event at Parliament House, hosted by the Hon. Rob Stokes, Minister for Infrastructure, Cities and Active Transport.   The subject is Classical Greece and its influence on Sydney, and the speakers are Alastair Blanshard, Paul Eliadis Professor of Classics, University of Queensland and noted author;Philip Thalis, prominent architect, former City of Sydney councillor, Professor of Practice in Architecture UNSW, and passionate advocate for Sydney's built environment; and Angelo Candalepas, distinguished architect, creator of the winning design for the new National Gallery of Victoria Contemporary gallery in Melbourne.

The event is in the Theatrette at Parliament House and starts at 4.30 p.m.  RSVP to janine.coffey@minterellison.com or hello@lysicratesfoundation.org.au by 5 p.m. Monday 17.
Plans are underway for the seventh Lysicrates Competition!
It is planned to hold the event at the Conservatorium of Music. The next Lysicrates Prize event will take place in the first half of 2023.
Dear friends, your help and participation are what makes the whole Lysicrates project what it is – busy, interesting, and beneficial to many sectors of society.  Thank you so much. We look forward to catching up!
Lysicrates Foundation Board of Directors