June 2022 Newsletter
October 11th, 2022
A brilliant Month for Lysicrates!
Six out of six: rave reviews for a Lysicrates winner, with author interview
Fabulous celebratory dinner
Prominent producer engaged for fifth Martin-Lysicrates Competition
Invitations go out for Martin-Lysicrates entries
Plans underway for seventh Lysicrates Competition
Ghosting the Party is receiving rave reviews at the Stables Theatre as part of Griffin Theatre Company's 2022 season

Review in the Sydney Morning Herald by Cassie Tongue, 26th May 2022
Last week, New South Wales legalised voluntary assisted dying. This week, Ghosting the Party, Melissa Bubnic's play about ageing, death with dignity, and the care work of women, debuted from Sydney's Griffin Theatre Company.
This is more coincidence than design; the play won the Lysicrates Prize in 2017. Still, it's a welcome arrival. Ghosting the Party is wickedly funny, desperately loving, and just sharp enough to pierce your heart.
Grace (Belinda Giblin, ablaze with stubbornness and wit) is 87 years old. Everything hurts. She's terrified of mental decline. She wants to die. Her daughter Dorothy (Jillian O'Dowd, with her heart on her sleeve, ever-hovering, ever-wounded) isn't having it. Surely, one should fight to stay alive at all costs? Doesn't Grace appreciate all Dorothy's sacrificial support?
Then there's Dorothy's daughter Suzie (Amy Hack, in a superlative performance). She reluctantly returns to Australia from Montreal, where she's been living for more than a decade to build her career, to be there for her family.
Grace's re-assessment of life and living weighs on them all, re-shaping their conversations and behaviours as well as reinforcing long-held obligations, burdens, and needs. Together and apart, the women argue, joke, attempt new beginnings, and experience endings.
At just 80 minutes, the play somehow folds some of life's biggest ideas into a jar and holds them up for our perusal: between scenes, the actors move out of time and role to share more philosophical ideas about dying, parenting and the politics of care.
Director Andrea James shapes the production with welcome playfulness and keen perception. A laugh will hang in the air just long enough to feel like a present; loss and grief coax tears to the eyes just when you need the relief of feeling. It's all wonderfully alive.
'At just 80 minutes, the play somehow folds some of life's biggest ideas into a jar and holds them up for our perusal.' Sydney Morning Herald
Review in the Audrey Journal by Kate Prendergast
'Bubnic is a brilliant writer of hilariously caustic speech. She deals it generously across the three generations of women, exploring the love, care, resentment and grievances that gather between them … Spiritedly directed by Griffin Theatre's Associate Artist Andrea James, and elevated by the superb Giblin, this debut production of Ghosting the Party is often bitingly funny, brazen and clear-eyed in its take on the things that keep us on this side of the veil, and why one would choose to pass through it.' Audrey Journal
Review in Timeout
'Director Andrea James has created great synergy with Hack, O'Dowd, and Giblin. They work seamlessly together like a chamber music trio, alternating counterpoint and harmony, coming in and out of the melody on cue.' Time Out
Review in Suzy Goes See
Ghosting the Party is a highly intelligent, and provocative, piece of writing, but also supremely funny, able to thoroughly entertain, as it makes clever arguments about some of life's most serious matters.' Suzy Goes See
Review in City Hub
'Ghosting the Party (winner of the Lysicrates Prize in 2017) is caustically funny, clever and completely full of life.' City Hub
Interview with Melissa Bubnic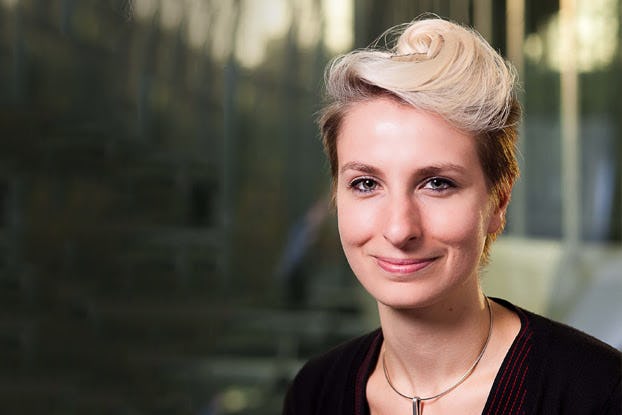 Melissa Bubnic was the winner of the 2017 Lysicrates Prize with her play Ghosting the Party.
In the short history of the Lysicrates Prize – inaugurated in 2017 – there have been eighteen shortlisted plays. Ghosting the PartyGhosting the Party is now the sixth of these to go into full production – an incredible record!
In Ghosting the Party, Grace is an 87-year-old woman who wants to take control of the way her life ends. 
Melissa says she was prompted to write about aging and death as she witnessed the decline of her own grandparents.
We certainly as a society talk a lot about quality of life, and what we think of as a life worth living, or not worth living.
In conversations with other people visiting their relatives in aged care homes, she discovered the common hope that older loved ones would not live to develop Alzheimer's disease or dementia.
She began thinking about the best way to leave this world, and the fear we all have about feeling powerless and losing agency over our lives.
No one wants that to happen to them or to happen to anyone that they love. So it was I guess an interesting provocation about 'What if you could leave the world on your terms?' and you could say 'I want to leave the party. I'm done with it. I've had my fun.' What if you could leave life the way you want to leave a party? You've danced, you've sung. You've gone, 'All right. That's it! I don't want to sing anymore.
Despite the sadness of the subject of aging and death,Ghosting the Partyis a very black comedy. Melissa says she always knew the play would have to be funny.
"I knew… it would have to be fun. You know, no one wants to go and see a play where people want to die."
Too many stories about the last stage of life feature older people who have already lost agency over their lives. Melissa didn't want that. She felt it was important that her character very much knew her own mind.
"I thought there's something quite bold about a character who's like, 'This hasn't happened to me yet and I'm going to make sure it doesn't."
Melissa is very clear about the boost the play received from the Lysicrates Prize:
Prizes like this are really important in getting work staged because any kind of encouragement that your work might find an audience is so necessary for a writer to keep going... I'd been playing with this idea for a very long time, and kind of needed the positive reinforcement of the prize to pursue it.
But not only that. It brought me to the attention of Griffin who therefore showed an interest thereafter and kept kind of checking in on me, and going 'How's that play going? We're still really interested to see the whole thing.'
So I think without the Lysicrates Prize this play would not be going on in 2022… I couldn't speak more highly of how grateful I am for getting us here.
Melissa is now based in London, where she is writing for several television projects.
Ghosting the PartyGhosting the Partyis playing at the Stables Theatre in Darlinghurst until 18 June.
Did you know?
Since the inception of the Lysicrates Prize in 2015, six submitted plays have gone on to full production on Sydney stages:

2016: The Literati, by Justin Fleming: 2015 shortlist (as The Savvy Women), produced by Griffin Theatre Company and Bell Shakespeare at The Stables Theatre and Riverside Theatres

2016: Ladies Day, by Alana Valentine, produced by Griffin Theatre Company

2018: Jesus Wants Me for a Sunbeam, by Steve Rogers: 2015 winner, produced by National Theatre of Parramatta at Riverside Theatres in 2018 and Belvoir Street Theatre in 2020

2018: Feather in the Web, by Nick Coyle: 2017 shortlist, produced by Griffin Theatre Company at The Stables Theatre. The play was also produced by Belvoir, and by Malthouse.

2019: Dead Cat Bounce, by Mary Rachel Brown: 2016 winner (as Approximate Balance), produced by Griffin Theatre Company at The Stables Theatre  

2022: Ghosting the Party: 2017 winner, produced by Griffin Theatre Company and currently playing at The Stables Theatre
Dazzling Celebratory Dinner
Thanks to wonderful support from Lysicrates board members, talented young actors, a great musician and director, a famous chef and the presence of two-time Martin-Lysicrates winner, Brendan Hogan and senior political leaders, our celebratory dinner at the Australian Club was a roaring success.  
Laughter, fun, lots of interaction between guests and artists, even some dancing, and some magnificent culinary offerings, all made for a brilliantly successful evening. (Flowers were great, too). 
Prominent Producer Engaged for Fifth Martin-Lysicrates Competition
We have been fortunate in being able to engage Helen Wristofski to direct our fifth Martin-Lysicrates Competition
Helen is an experienced CEO, executive producer and advocate, who over 20 years has led companies and commissioned and produced significant new productions, from major festival presentations to small intimate works, across theatre, dance and opera.
Invitation to Martin-Lysicrates Playwrights
You all know how much kids love Martin-Lysicrates.  
Every year they laugh, boo, cheer, stamp, and, most importantly, they VOTE.
For most of them, it's their first experience of the magic of live theatre, and the empowerment of the democratic vote. And many of them have been inspired, later, to write their own stories.  Kids from all backgrounds, areas, families, schools – they come to the theatre, they watch the live stream in their classrooms, or they look at it online.  And they argue with each other about who should win and why. 
It's time for the next one!  Invitations have just gone out to playwrights to submit the first act of a new play for 11 to 14 year olds.  Every year we get more submissions, three of them end up making the final cut, and one winner is picked by the kids' votes from all over Australia and the world.   
Further information: martinlysicrates.com.au
Plans are underway for the seventh Lysicrates Competition!
The next Lysicrates Prize event will take place in the first quarter of 2023. It is planned to hold the event at the Conservatorium of Music.
SAVE THE DATE
The Martin-Lysicrates event will take place at the Riverside Theatre, Parramatta on Tuesday morning, 8th November 2022.
Please write the date into your calendars!